Arrival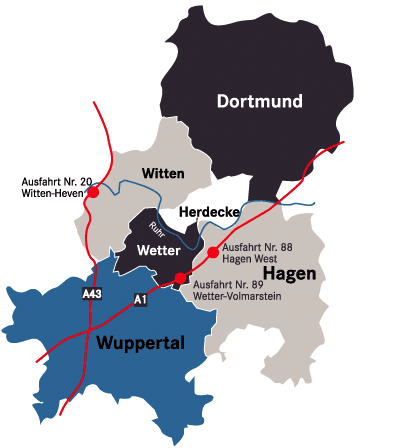 All spectators and athletes will arrive in a few minutes from the signposted shuttle car park to our festival site with our free Sparkassen shuttle. The buses regularly commute between the signposted park area, the Ruhrbike-Camping and the Harkortberg.

There are no parking spaces available on the Harkortberg! Only registered teams, motorhomes etc. with access authorization can drive on the site (see section Accommodation & Teams).
Parking spot Sparkassen-Shuttle
Wasserstraße 16
58300 Wetter (Ruhr)
Germany

Ruhrbike-Camping
Friedrichstraße 64
58300 Wetter (Ruhr)
Germany

Festival-Area Harkortberg
Wolfgang-Reuter-Straße
58300 Wetter (Ruhr)
Germany
Attention: Access to Harkortberg only for registered caravans / motorhomes / teams, without access authorization, there is also no turning opportunity for caravans!